The retail industry could be losing nearly $1 trillion in sales annually due to business process errors that could be automated by AI, such as restocking in eCommerce. In this article, we discuss the top 3 most well-funded AI startups selling to the retail industry and how their solutions could help retailers and eCommerce sites save money lost to fraud and increase revenue through customer analytics.
Signifyd – Retail and eCommerce Fraud Detection
Signifyd is the most well-funded AI startup in the fraud detection industry for retail and eCommerce, having raised $180 million. They were founded in August 2011 and specialize in fraud detection for retail and eCommerce companies. Their most prominent offering is called "guaranteed fraud detection," and it likely uses anomaly detection technology to recognize fraudulent transactions and prevent chargebacks. The offering was originally announced exclusively for the Magento eCommerce platform in 2017.
We can infer that Signifyd uses anomaly detection technology based on the company's description of the machine learning algorithms used to create fraud detection solutions. This type of algorithm is usually the basis for a fraud detection application. Fraud detection specialists can then review transactions after the software determines whether they are fraudulent. The step-by-step list below describes this workflow in more detail:
Transactional data enters the system in real-time

The anomaly detection algorithm analyzes the transaction and determines if it is legitimate or not. The software may represent this in the form of a percentage-based confidence rating

An employee reviews the determination and decides to accept or reject it. This helps the machine learning model make better determinations in the future
Below is a graphic from Signifyd's website explaining how their fraud detection solution works. Retailers can choose to fully automate this process because Signifyd will purportedly reimburse them in the event a chargeback does occur:
Signifyd has purportedly helped retailers such as Mitchell and Ness improve order approval rates and reduce their chargebacks with the "guaranteed fraud detection" solution. According to a case study the company lists on their website, Mitchell and Ness saw increased cross-border sales while mitigating chargebacks by 2%.
Sift – Anomaly Detection-based Identity and Account Verification
Founded on June 1st, 2011, Sift boasts a total of $106.6 million in funding. Their chief product is called Account Defense, and it also purportedly uses anomaly detection technology. Sift's solution helps retailers verify their customers' identity and account information. Sift first announced Account Defense in January of 2019.
A retailer's fraud and risk management department can use this software to track suspicious logins or login attempts and prevent fraud. Retail employees get access to the following tools:
Employees may be able to visualize patterns in anomalous behavior from an analyst console. This provides login history from multiple locations and devices.

They might create automated workflows for blocking or accepting new signups and routing accounts to review. This might allow fraud specialists to save time by focusing on instances of fraud rather than clerical tasks.

Employees may also customize their review queues in order to optimize the customer experience. This may reduce friction and maintain trust with customers who have experienced fraud.
The following image from Sift's website explains the three main capabilities of Account Defense. On the right, the user dashboard shows how a company can set certain thresholds that indicate possible fraud. These include the number of failed login attempts and how many users with the same IP address are trying to log in.
Sift offers numerous case studies on their website such as one that describes their work with DoorDash. The case study states that the client company was able to reduce their chargeback rates by 99% by using Sift's identity verification technology. 
Capillary Technologies – Customer Engagement and Analytics
Rounding out the top three, Capillary Technologies has raised $102.1 million. The company was founded on August 1st, 2008. One of their main AI products is Engage+, a digital platform for digital marketing including ad campaigns, sales emails, and scheduled sales calls. Capillary first announced this solution in spring 2018, and it can be seen in their campaign manager explanation video below: 
Engage+ most likely runs on predictive analytics technology because of its ability to determine how likely a customer is to respond to a given ad campaign. Predictive analytics is made to correlate large amounts of historical data with patterns that could lead to a desired result. 
The Engage+ software allows marketing departments to create new customer segments based on demographics and spending behavior using historical customer data. An employee could visualize this customer data through a user dashboard and use it to create and plan ad campaigns. Engage+ purportedly enables this with the following capabilities:
A centralized campaign management page of the dashboard that allows employees to manage campaigns across both digital channels and in-store promotions.

Schedules and timelines for ad campaigns so that marketers can send email engagements to the right customers at the right time. 

The ability to track the ROI of given ad campaigns and optimize them in real-time. This allows promotion of sales of specific SKU numbers and store performance by auditing the sales rates of individual products and stores.
Below is an image from Capillary showing how the Engage+ dashboard can help create dynamic promotional offers that change depending on time of year or certain shopping cart factors. The image shows a user creating an offer that will trigger when the customer's shopping cart reaches a certain size.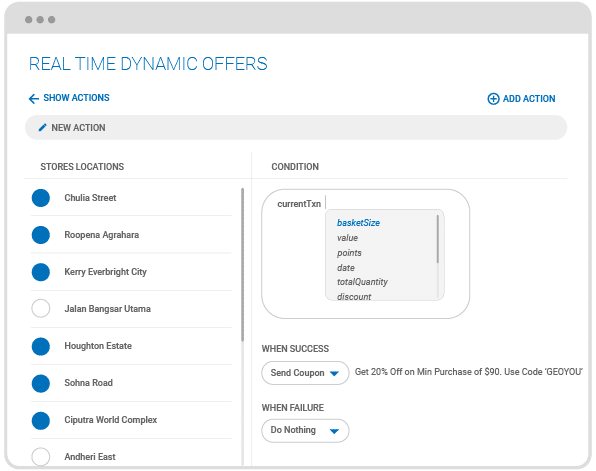 According to a case study on Capillary's website, the company helped Tunglok restaurants create targeted promotions for their customers so they could offer more personalized deals and drive sales. Capillary claims that Tunglok saw a 171% increase in repeat customers within the first year of using Engage+. Additionally, the restaurant purportedly saw a 93% increase in sales from long-time customers that year.
Header Image Credit: Tech Impact