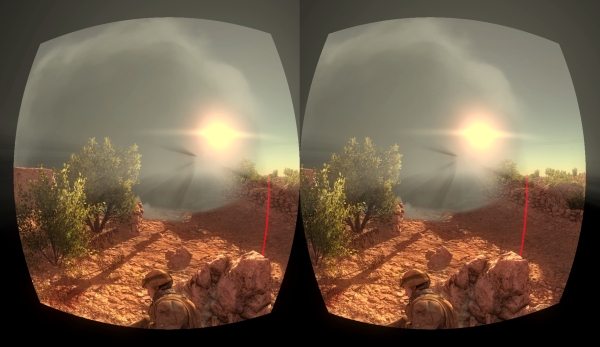 As the gaming community eagerly awaits the Oculus Rift, the virtual reality headset that will allow gamers full, 360° immersion into their games and virtual worlds, the medical community is also developing a wide variety of applications for the new VR device. And, as a recent Forbes article points out, the use of virtual reality as a therapeutic aid is just beginning.
Though VR is already in use in many areas of medicine, it has plenty potential for use in the areas of physical therapy, mental health and more. Oculus Rift has already proven its usefulness by providing amputees suffering from Phantom Limb Syndrome to once again feel the presence of their missing limb. Studies have shown that recreating the limb virtually allows amputees to reach a level of acceptance of their loss, both physically and mentally.
In the realm of mental health, researchers are looking at using the Oculus Rift in the treatment of Post-Traumatic Stress Disorder. Through virtual reality, a PTSD patient can be exposed to the events that precipitated the trauma in a controlled, measured environment, which, in turn, allows clinicians to better control the progression of therapy.
While the use of VR is already showing its effectiveness in treating the mental health of the injured, a British company, Plextek Consulting, has developed an Oculus Rift-based simulator to train military medical personnel how to respond to injuries in a battlefield situation. Funded by the UK's Defense Department (Dstl), the training can simulate pre-hospital care on the battlefield and allows trainees to negotiate and prioritize clinical needs, teaching teamwork and decision-making skills within high-stress "under-fire" scenarios, according to a Plextek press release (which as of September 2017 seems to be taken down).
"Our work with Dstl is enabling us to revolutionize the way medical treatment can be applied in the battlefield, while creating a multitude of opportunities for advanced health training applications across a breadth of industries," noted Collette Johnson, Plextek Medical business manager.
Beyond the battlefield, Plextek believes this technology can be used to allow multiple training applications across different industries. This could range from disaster relief to medical training for specialist trauma scenarios and has the potential to be fully implemented over the next two to three years.
Since its introduction in 2012, Oculus Rift has shown that its potential is limited only by the pace of its development. However, as medical research is showing, the unlimited potential applications of VR-based medical treatment are just beginning.
Image credit: Plextek Consulting